The world of insurance can be daunting, even for the more experienced. Nonetheless, insurance is a must-have. Peace of mind in the event of a particularly stormy weather forecast makes the aftermath considerably more manageable.
In the coastal city of North Myrtle Beach, there are extra protection measures to consider than general homeowner insurance. Below we outline some of these.
Why You Need North Myrtle Beach Insurance
North Myrtle Beach is a city on the coast and that makes it more prone to flooding. Flooding comes as a risk to property and life. Heavy rain, storm surge, tidal flooding, wildfire flooding or a hybrid of these dangers are examples of potential threats.
When exploring insurance options, it is useful to see whether you are living in a flood zone. You can do this yourself, or contact an insurance agent for more guidance. Many insurance providers do not cover flooding in their homeowners insurance policies. This is why you need to be aware of what you need and ensure you're covered in any unexpected events.
Average Cost Of Insurance in North Myrtle Beach
The average cost of home insurance in North Myrtle Beach $1,006.26. This is slightly above the average home insurance cost of $989. These are not set figures, however, and will usually vary depending on the insurance provider. Some insurance providers may charge premiums from as low as $843 or as high as $1745.
To know where to start sifting through various insurance options, it helps having some identifiable criteria to look out for. Price, for instance, should not be the sole driver of an insurance decision. Other things you might consider include:
●     Bundle package insurance policies
●     Reviews of insurance providers for credibility.
In addition, size also matters. While larger insurance companies provide a wide range of policies, smaller insurance companies can offer policies tailored to your needs. It is worthwhile to get quotes and compare based on what you need.
Types Of Insurance You Should Get In North Myrtle Beach, SC
Homeowners Insurance
Homeowners insurance is a constantly changing figure.
The price you pay for premiums fluctuates depending on how old the house is.
Houses recently built have lower initial rates. However, if you have an older home with a new roof, for instance, you could also potentially face low rates.
Despite North Myrtle Beach offering a fairly quiet existence to its residents, security is always something to consider. Insurance in North Myrtle Beach for homeowners and renters is crucial in the event of an electrical trip, fire or worse.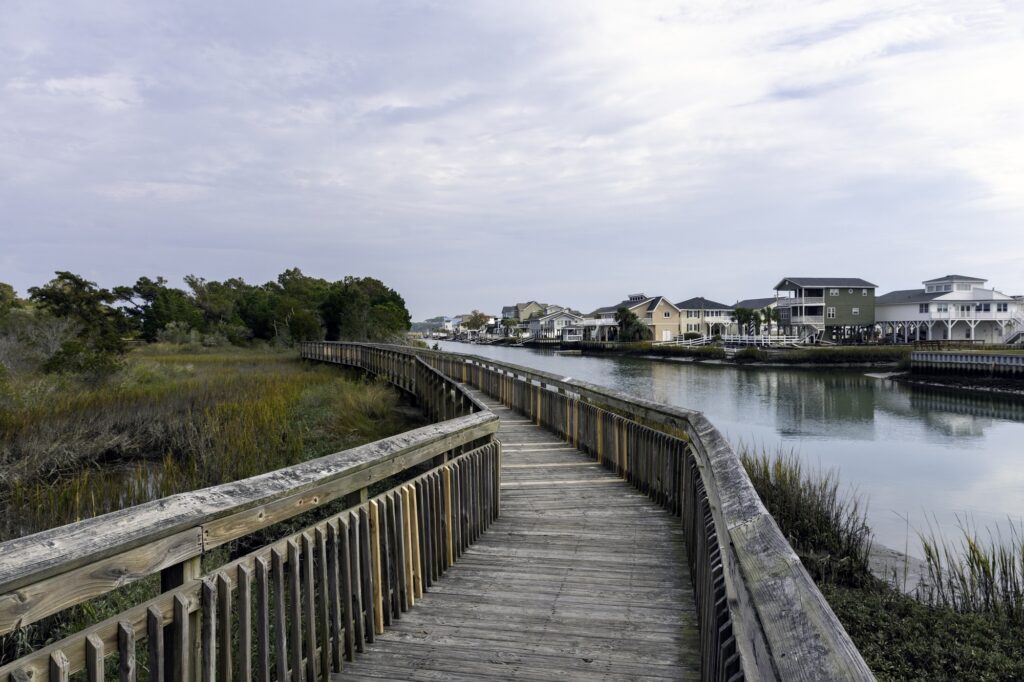 Flood Insurance
Home insurance policies do not usually cover flood insurance as well. As a result, you need to buy flood insurance separately.
This step provides cover for structural harm and flood-related emergencies such as mudslides. It's important to look closely at your policy.
Usually, you can get coverage for the building structure and the contents. North Myrtle Beach insurance falls under the National Flood Insurance Program (NFIP). This program makes flood insurance available for all houses in the city to lessen damaging flood impacts.  There also private flood options.
A final consideration for flood insurance is necessary to think about for anyone that wants to secure a mortgage. In some cases, banks or mortgage providers most often deem flood insurance as a non-negotiable option to have.
Car Insurance
Auto insurance differs from person to person. For some, your work might require you to travel far distances often. Others may only use their car for errands around the neighborhood.
Regardless, North Myrtle Beach car insurance provides valuable protection. Even the most cautious driver could experience someone crashing into their car while parked comfortably in a parking lot.
Liability and physical damage are two auto insurance coverage types available. Car liability insurance, however, is a legal requirement for South Carolina drivers. Liability coverage provides protection to you if you caused the accident and if you damaged someone else's property. It also offers protection to uninsured drivers that have fallen victim to an accident.
 Final Thoughts
As we have seen, there are many considerations for people seeking insurance. After the research process, work out what is still unclear and call a local insurance provider. Insurance providers can walk you through the process.
With our help, you can find a policy to best suit your needs and your budget.